Experience Gives Perspective
McCaffrey commanded B Co 2-7th Cav in Vietnam during 1968-69.  In this series of video interviews, veterans of the company share their perspective of the battlefield leadership of then Captain Barry McCaffrey. 
Captain McCaffrey was on his third combat tour at age 25.  He would be wounded for the third time while commanding this Air Assault Company of the 1st Cavalry Division.  
1st Sergeant Emerson Trainer was an enormously experienced field combat leader. He had served in the same B Co 2-7th Cav in the Korean War.  He also would be wounded for the third team leading these terrific soldiers. The soldiers loved and trusted him. At age 35 he was the "Old Man" of the company.
The soldiers were mostly teenagers or younger than 22.  Almost all were draftees….. even though draftees comprised less than 25% of the total troop population in Vietnam.  These troops were incredibly courageous, aggressive, quick to protect their buddies, smart and physically fit. Combat was relentless and violent. We lived like animals and dug like moles. 
The company operated alone on the battlefield but was supported by incredibly effective US artillery, attack helicopters, and US Air Force fighter-bombers. 
These soldiers have stayed together in association for 50 years.  Every two years we gather at the Vietnam Memorial and remember those who were killed…. and all those who protected each other. 
Warrior Faces
Clockwise from top left: Spc. Kamau Bey, an aviation operations specialist with the U.S. Army Reserve Aviation Command; Spc. Catherine Downes, a military police soldier with the 200th Military Police Command; Spc. Markryan Visitacion, a human resources specialist with the 311th Signal Command (Theater); Sgt. AlexisArcher, a civil affairs specialist with the U.S. Army Civil Affairs and Psychological Operations Command (Airborne); and StaffSgt. Salvador Macias, a motor transport operator with the 377th Theater Sustainment Command, represent the diversity and depth of the U.S. Army. U.S.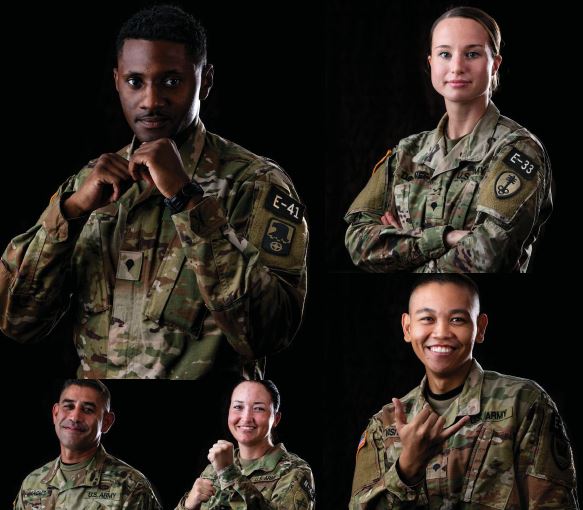 BARRY R. MCCAFFREY – HISTORY & LEGACY
ANGRY AMERICANS – EPISODE 85: FULL INTERVIEW
VIET NAM– OUR VETERANS IN PERSPECTIVE
MEDIA COVERAGE OF THE PERSIAN GULF WAR
ANDOVER INTERVIEW –
NATIONAL SECURITY
HIGH SOBRIETY HOSTS BARRY MCCAFFREY TO DISCUSS…